Shopping Cart
Your Cart is Empty
There was an error with PayPal
Click here to try again
Thank you for your business!
You should be receiving an order confirmation from Paypal shortly.
Exit Shopping Cart
Behind The Smile & Broken ?
If you haven't seen the show A Million Little Things I totally recommend it! Don't worry I'm not giving any spoiler alerts here about the show... The only spoiler alert is that I am still alive, well(ish), and kicking!
 
I've made it no secret that I attempted suicide some years ago. It's something that I did keep secret for a long time because I was ashamed and felt like people looked at me differently. I felt broken and had honestly reached my lowest point.
 
I channeled those feelings into two audiobooks where I opened up about the suicide attempt and what led me to it. The books aren't all doom and gloom I also share all the Million Little Things that I have to live for in life and just how truly thankful that I am that I am still here. I am thankful that God gave me a second chance.
 
Dealing with depression is something that billions face each and every day yet they keep it a secret because they feel like they don't have anyone in their corner. I know because I felt that way for the longest time.... But the truth is with depression you don't see the truth standing right there in front of you; all the love, care, and support that one could ever hope for in life. I had all those things, I still have all those things. I just didn't realize it. So many people that I talk to feel like they should give up and not face another day because they have nothing to live for but I'm here to tell you that you do. Right now it may not seem like you have "A million little things...." You may only have one thing at the moment, but that one thing could turn out to be a MILLION LITTLE THINGS that you never knew existed because you're living in a pool of depression, self-doubt, self-harm, and all the other things that come along with depression.
 
You don't get the Million Little Things all at once but once you accept that you're not broken, once you accept that you are loved even when you don't feel like it... YOU ARE SO LOVED, YOU ARE CARED FOR!
 
I have an outlet to share some of my story while on stage and the main point that I make at every show that I do is that we are all PERFECTLY IMPERFECT and we all have a story and no matter how big or small we think our story is, our story is meant to be heard...
 
If you are reading this and you feel alone I'm truly sorry that you feel that way but for every person reading this that does feel alone I assure you that there are billions of other people who feel the exact same way that you do, You're not alone I assure you. Life throws so many unexpected curveballs our way and it usually happens when we are at our lowest point and that takes us to an even lower point... Don't give up, don't give in, fight for your life because your life has meaning for who you are! The truth is you're an amazing person no matter what has happened to you in your past, no matter what mistakes you've made, you have to focus on the present and the future because if we dwell on the past we may miss out on one if not all the million little things.
 
Sorry for the shameless plugs but if you like AudioBooks you can go to www.JoshuaReid-Davis.net to find out all the media outlets where you can download Behind The Smile and Broken? The two books I have written on my journey to share my story and my journey. So many times people look at our social media and they see what we put out there, the best versions of ourselves when sometimes on the inside we are dying inside.... Don't go through this journey alone... Do it with someone! Find someone who will be there for you no matter what, someone who will not judge you, and someone to love you for the person that you are!
 
For more information on suicide prevention you there are so many resources out there
 
https://suicidepreventionlifeline.org
National Suicide Prevention Lifeline
We can all help prevent suicide. The Lifeline provides 24/7, free and confidential support for people in distress, prevention and crisis resources for you or your loved ones, and best practices for professionals.
800-273-8255
 
https://www.crisistextline.org
Crisis Text Line is the free, 24/7, confidential text message service for people in crisis. Text HOME to 741741
Suicide is preventable. Get free help now. Text CONNECT to 741741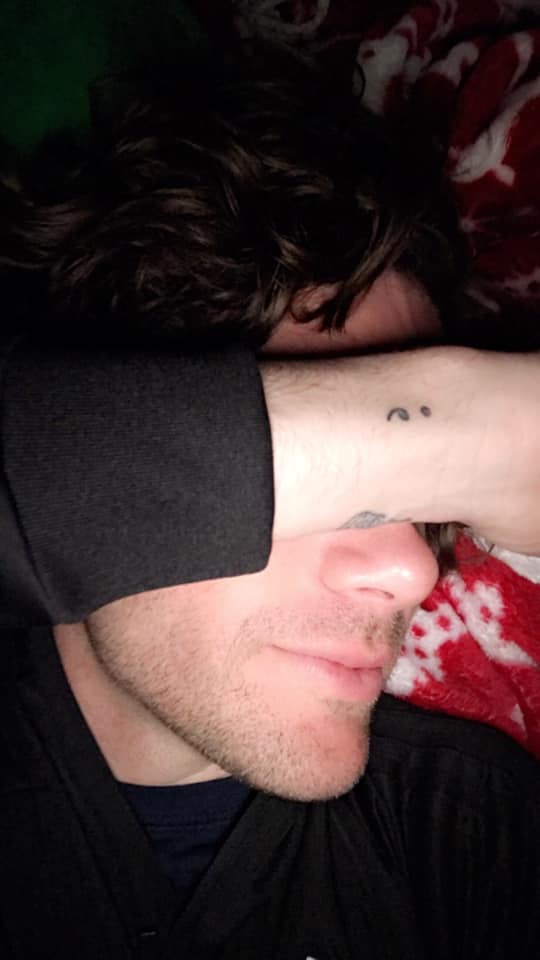 Project Semicolon has encouraged people to draw — or get tattoos — on their bodies of a semicolon to represent support for those dealing with mental illness and suicide. "A semicolon is used when an author could've chosen to end their sentence but chose not to.

Categories: None
/